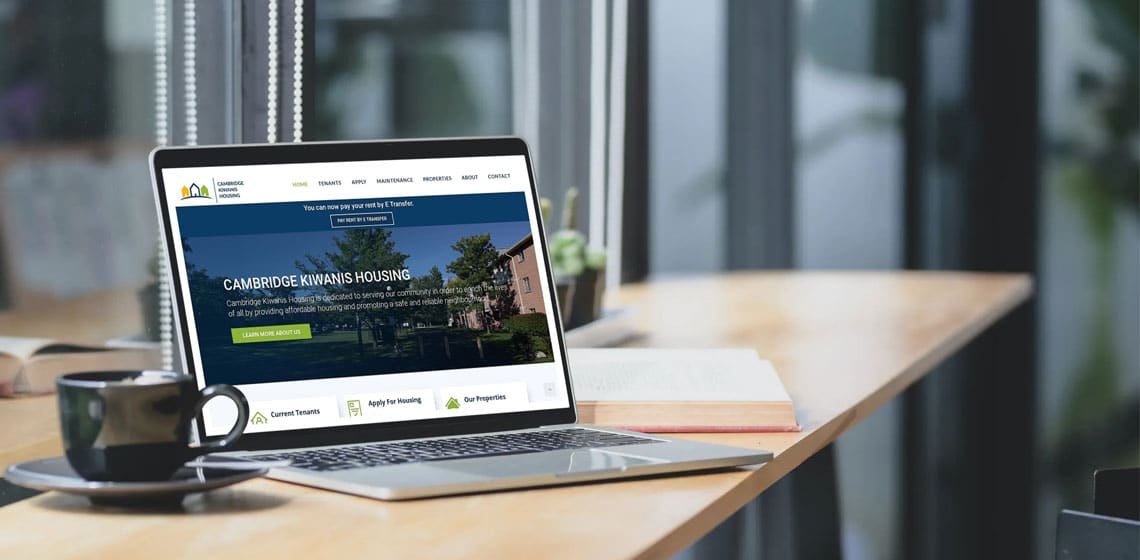 This project entailed working with the client on new branding and an updated website to help them connect with their current tenants and the broader community.
Our work with Cambridge Kiwanis Housing began with the branding project. In need of a new brand identity, Cambridge Kiwanis Housing tasked Evergreen with coming up with a new logo along with an updated colour palette and fonts to use as part of their brand guidelines. This work included feedback from key staff and leadership, and the end result was approved by their board of directors.
Once the new logo and branding were in place we designed and built the new website for the organization. The website had two main goals; offering improved communication to current tenants, and connecting with the broader community.
These goals were achieved by having clear and easy navigation on the site for all users. Tenants can quickly find the information they need for submitting maintenance requests or looking up policies, and the site speaks broader about the important service they provide in our community and highlights the work they do with other community partners.
The site was also built in a manner that it is easy to update, add information, and generally keep current by staff.
With their new look and website, Cambridge Kiwanis Housing has improved their visibility in the community and made communications easier for their tenants and staff.
Cambridge Kiwanis Housing
Cambridge, ON
In the early 1990's Kiwanians supported Cambridge Kiwanis Village as it developed affordable rental housing on two sites in the Preston area of Cambridge. Approximately 75% of the 278 units are occupied by households who receive a rent subsidy. Cambridge Kiwanis Village is governed by a Board of Directors who are also Cambridge Kiwanis members.
Ready to get started? Book a call.
We create custom websites designed to help you get the results that your business needs.
Book a FREE 30 minute consult, and we'll deliver a complimentary website plan for your business.