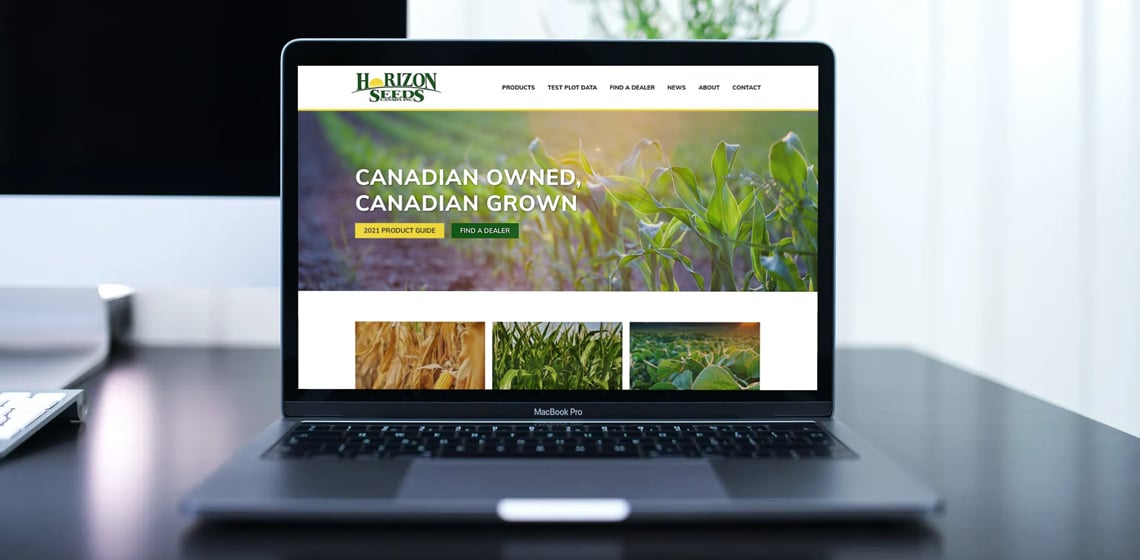 Evergreen was approached by Horizon Seeds Canada Inc. to update their existing website that had begun to look and feel dated. The new site needed to reflect their strong brand, highlight their product, and have functions in place to help customers find the products and information they need.
Building on their existing catalogues and product technical sheets, we created a website that fit in with their branding and current marketing collateral. Each product vertical has its own landing page with corresponding products and sort and filters in place to narrow down on the right product quickly. The back-end of the site was built to enable the Horizon team to update and add new products easily so their product offerings are always up to date.
Horizon also has a dealer network that stretches across Canada, and they wanted to make it easy for their customers to find and connect with their local dealers. A dealer locator map was utilized to showcase Horizon's reach and to allow customers to find a nearby dealer.
Overall the completed website reflects the Horizon Seeds Canada Inc. brand and identity. The focus remains on their customers and usability as well as highlighting the Horizon Seeds products.
Horizon Seeds Canada Inc.
Courtland, ON
Horizon Seeds Canada Inc. is a Canadian owned family seed corn business located in Courtland, ON with a focused purpose of "improving lives by realizing the potential of a seed.," and as a result focuses on the commercialization of corn hybrids across Canada while driving local partnerships throughout Canada. Horizon Seeds works with multiple partners in addition to our own breeding efforts to commercialize high performing genetics across major trait platforms in corn today.
Whether you have a specific project in mind, or would like someone to help you figure out the best solution for your business, we're here to help you out.