During a crisis, some processes grind to a halt, while others explode in popularity. During the 2008 crisis, the world's economy faltered. Investments slowed, and sales dropped, as people floundered to recover and minimize damage.
Covid-19 brought with it a different kind of landscape. While physical interactions become taboo, technology becomes the primary form of expression. Online shopping, video conferences, and streaming entertainment are more than the new normal – it's the new future.
Retail statistics in Canada predicted the growing popularity of tech-based innovations. But few expected the catalytic effect of a global pandemic on the technology sector.
The consumer journey in Canada has undergone some pivotal transformations this year. It's not just online shopping that has spiked – but the importance of an online retail presence is unprecedented.
Key Statistics from Think With Google
Recent retail insights on the Canadian consumer journey.
The pandemic has accelerated online shopping this holiday season.
65% of Canadian holiday shoppers say they will shop online more during the holidays.
71% of Canadian planned holiday shoppers say they will browse for gift ideas online, not in-store
<7% of Canadian shoppers that plan to shop this holiday season say they won't go in-store
Canadians that do shop in-store will use it more as a transaction point.
61% of Canadian planned holiday shoppers say they'll confirm stock online before heading in-store
+3000% global searches for "curbside pickup" year-over-year
68% of Canadian shoppers are avoiding touching products in-store
Holiday shoppers are thinking more about what they buy and where they buy it.
30% of Canadians shopped with a retailer that was new to them.
66 of Canadian holiday shoppers say they'll shop more at local small businesses this season.
+60% global searches for "best affordable" year-over-year
This article unpacks the declining brand loyalty of Canadian shoppers in the face of online deals. The implications for your international or Canadian brand are powerful.
The Canadian Landscape
Approaching 2020, the Canadian economy was set for a moderate incline. Retail sales were expected to rise by around 5% in 2020, with unemployment at 5.7% – a 45-year low.
As Covid-19 spread to the rest of the world – this outlook flipped on its head. Canadian retail stores reduced their opening hours or closed altogether. Self-induced social isolation curtailed consumer demand for non-essential products.
As lockdown dragged on and some retail stores were forced to close permanently – unemployment spiked. The national unemployment rate will more than double.
Combined with lingering effects from the 2008 recession, consumers expect to maintain quality at a low cost.
The current climate is a bleak one. Retail spending is dropping rapidly, and unemployment will hit the levels of economic depression. It remains to be seen if economies can bounce back faster after the downtime.
Deloitte speculates that there will be a pent-up demand for spending on housing items. But for the moment, many purchases are postponed. The rate of economic rebound will likely hinge on the rate at which distancing measures are lifted.
In totality, the Canadian retail market is in the midst of a volatile period.
Pre-Covid Trends
In 2019, the Canadian government released a report on the evolving retail market. In it, they outlined five key trends.
From these, the most important is the increasing use of technology in stores, the consumer marketplace moving online, the growing presence of online advertising, and the role of tech in financial services.
1. Increased Use of Technology in Stores
Bar codes and point-of-service price scanning makes it easier for retailers to fluctuate prices. Promotions, sales, and other tactics no longer involve significant processes. UPC's (or universal product codes) help retailers make huge savings – and avoid stock shortage.
With RFID, retailers can manage stock more efficiently and minimize human interactions. This is more profitable for retailers (fewer employees) and customers (more safety). RFID tags are set to replace bar codes.
RFID tags will make inventory management and tracking more efficient. It also makes product recalls easier. RFID or QR codes allow customers to scan items themselves, finding information or discounts.
This opens up possible influences at the point of sale. For example, the labor condition of textile manufactures.
64% of Canadians claimed they would be willing to shop at a physical store using an automated kiosk. Those retail statistics were recorded pre-Covid.
The use of self-service in stores has also made it easier for customers to use loyalty cards and get personalized deals. This has the benefit of customers saving money and retailers clearing stock more efficiently. However, it also raises significant privacy concerns.
Shopping online already subjects Canadians to record their purchases. Offline shopping used to be a haven from that privacy infringement – but that is eroding.
The changing landscape also puts users that are unfamiliar with digital technology at a disadvantage. On the other hand, in-store kiosks provide better access to inventory for customers with no internet access.
2. An Online Marketplace
As in many other places around the globe, Canadians are shopping online more often. Online shopping is more convenient – especially for niche products. It can be hard to find a specific product in stores that don't have an online catalog.
Still, there are concerns over the accuracy of product information online. It's harder to regulate online product descriptions.
There are also financial safety concerns with payment processes. Scams like phishing are prevalent in online shopping or bidding services.
Online shopping can place more power in consumer choice. Small inconveniences like a slow website or bad UX (user experience) can drive away customers. Online sales margins are becoming a game of inches.
Customers are less loyal to brands and are more devoted to low prices and good quality. Music streaming has exploded in such an environment – often to the detriment of artists. The internet generally reduces prices, like life insurance.
Every company is now situated closer to its competition. Geographic location is less of a factor when selecting a business.
The biggest difference between E-commerce and brick-and-mortar shops is access. Customers with internet access can shop 24/7 from anywhere.
In response to retailer uncertainty, customer uncertainty also suffers. Dynamic prices that fluctuate are increasingly common.
As demands on consumer's time increase, access to shopping while commuting or waiting is key.
3. A New Advertisement
Advertising is an industry always in flux, but even more so recently. Online advertisements are becoming more targeted and finding consumers in more ways. Emails, text messages, calls, social media, and websites are flooding users with marketing.
Television, Radio, and Newspaper ads are declining – while internet ads have exploded. And it doesn't seem as though the trend will stop. New technologies like virtual or augmented reality are bringing advertisements right to your eyes.
Besides an avalanche of advertisements, Canadian consumers will benefit from lower search costs. Information about products reaches them without effort.
Despite that, we mention above that the online marketplace is ripe for misleading information. With more online competition, retailers more often resort to exaggeration and misinformation.
It seems that brand reputation is the main restriction on misleading information. Consumer protection laws remain far more robust in some countries than others. Regulation is essential as advertisements have primarily shifted from a straight ad to product placement.
Social media product placement is the most controversial but effective form of advertising to youth today.
4. Financial Technology
Canadians are more and more concerned about internet security and privacy issues. Awareness around the world highlights issues like cybersecurity. Such terms were, until recently, non-existent in the consumer's mind.
Online banking is evolving at break-neck speed. While cryptocurrencies and other new technologies have not yet become mainstream, finance is changing. Online transactions and contactless payments are weeding out the use of cash.
For governments, this means both less and more control over the currency. In many other countries, mobile banking is the new norm. Contactless payment is rising in popularity wherever the infrastructure exists for it – mainly due to Covid.
Debit card transactions are gradually surpassing the popularity of credit cards. Opening a debit account is more accessible and takes no initial investment.
Retail Statistics Towards the End of 2020
This holiday season will be different. Online shopping will prevail, and Black Friday may be set to merge with Cyber Monday.
The following retail statistics demonstrate that already apparent trends back in 2019 have accelerated.
5. Use of Tech in Stores
Canadians are not entirely against entering stores this holiday season. Less than 7% of Canadians will refuse to enter a store for holiday shopping.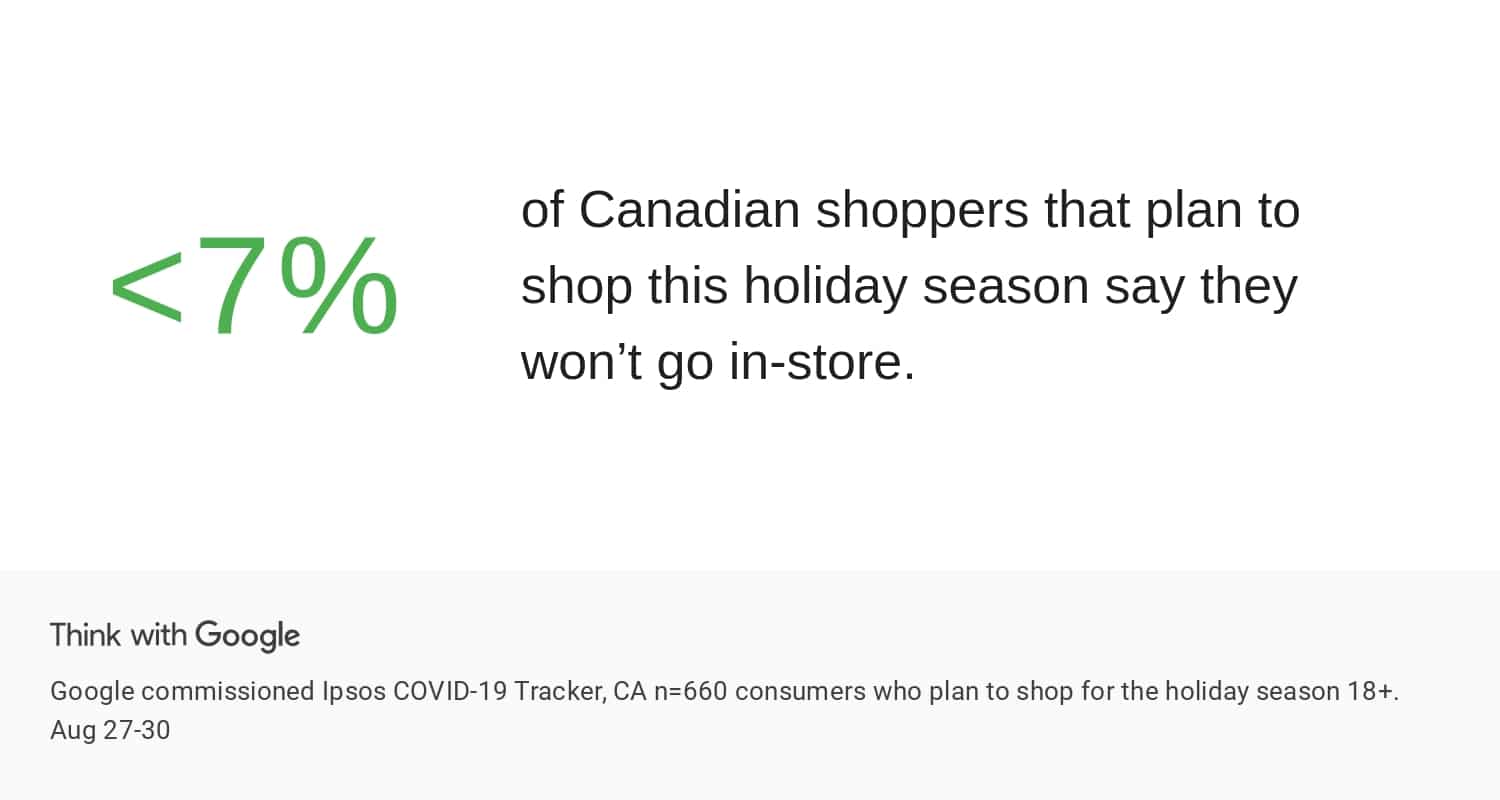 This is perhaps thanks to new technology in stores that minimizes the risk of physical shopping. Contactless payment, social distancing, and pre-order pickups may incentivize physical shopping. Young shoppers are still most likely to visit stores in person still.
Pickups are increasingly popular. Google research shows a 3000% increase in the term 'curbside pickup'. While some businesses, like grocery stores, may remain less affected by this trend, many are – especially restaurants.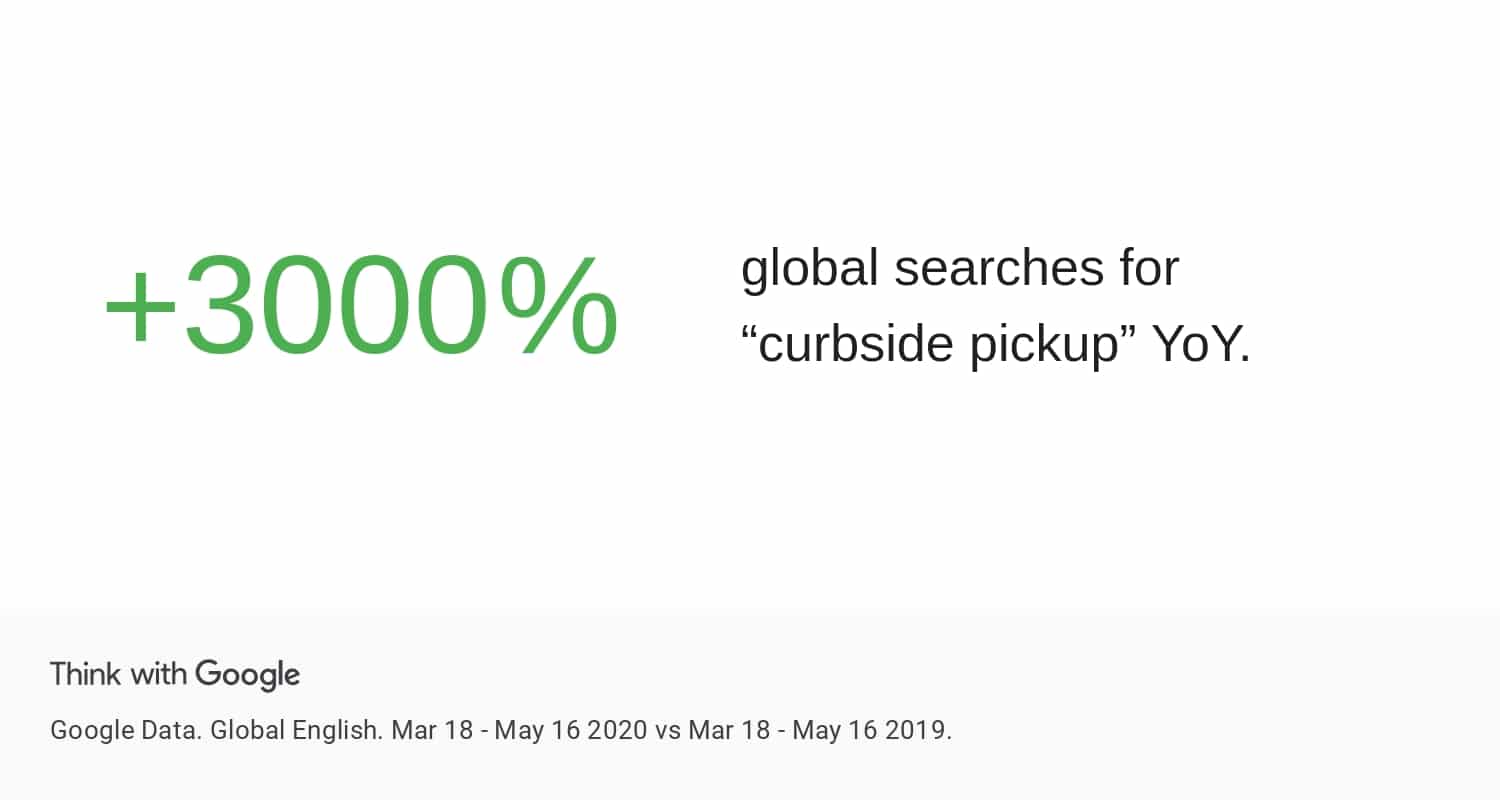 Canadians will want to avoid any touch interactions when picking up products this year. Consumers highly appreciate self-service kiosks and contactless payments. Almost 70% of shoppers will try to avoid touching any products in the store.
6. E-Commerce
Even though Canadian shoppers are willing to visit stores in person, they will browse online.
More than 71% of Canadian shoppers state that they will search for gift ideas online, rather than in stores. Health risks are seemingly worth it for a purchase, but not to browse.
Up to date, the online stock is vital this holiday period. 61% of Canadians will try to confirm stock online before entering a store. The consumer journey hasn't cut out physical stores, but it begins online – rather than in person.
Even back in 2013, 84% of Canadian shoppers were connected to the internet. 47% of them conducted broad searches and reviewed customer feedback before buying. 42% of Canadians then search for the best places to make that purchase online – and 41% complete the purchase online.
Still, 65% of Canadian shoppers confirm that they will do more shopping online this holiday.
The trend of reducing brand loyalty in favor of better prices or quality is rapidly increasing. Canadian shoppers, during Covid-19, place less attention on what brands they shop from – and more on the product. 30% of Canadians this holiday period shopped with a retailer they had never heard of before.
What's more, there is a 60% increase in Google searches that include 'best affordable.' You do the math. Consumers want to find the best quality for a limited budget.
This is not the time for luxury sales.
7. Advertising
If you're a small business worried about losing sales to large competition, there are some benefits. Consumers are rallying to support small local businesses. 66% of Canadian holiday shoppers will increase spending at local small businesses.
The 'Made in Canada' advantage reported in 2013 is still a force to be seen. Businesses should highlight the role of their local business in their community.
This is a moment to promote your place in your city or town, rather than shut doors and wait for the storm to blow over.
It's also a matter of convenience for many consumers. With less travel and no commuting, consumers are less likely to shop far from their homes.
Advertising will have to adapt. Advertising that doesn't take Covid-19 into account is bound to destroy brands. Customers want brands to understand their financial struggle and the psychological effect of social isolation.
This is a time for brands to drop callous or corporate statements and share real stories. Encourage consumers to give your business online feedback and reviews.
While your business may be local – your online presence is still vital to staying float this holiday season. As we saw in the section above, about half of Canadians browsed online before finding a place to purchase. This number has now grown even further.
In a time where social interactions are limited, word-of-mouth is moving to our devices.
The Future Arrives Faster
Online shopping is evolving in more places than just Canada. But retail statistics show the Canadian market is nonetheless following a similar trend.
The prominence of technology's role in consumer interactions and purchases is unprecedented. Consumers want convenience, but they can't sacrifice more money to do so.
This is a time for businesses to come up with smart and cost-effective solutions. In a time when many companies will struggle to make ends meet, customers are on the same journey.
Despite that, consumers still want to enjoy and celebrate events and holidays. They are still willing to support smaller businesses and do their part to keep the economy afloat. If you're interested in learning more about ways you can continue to grow your business during this time – please check our detailed blog.